Wellness Within Spa
"This is for coaches, teachers, consultants, mentors, trainers or other similar professions who are after clients, customers or consumers. We use coaches as a generic term for the coaching community"
Would you like to generate leads for your coaching, teaching, consultancy or mentoring business – for free?
Would you like to network with other coaches and develop new skills, work ventures and other exciting opportunities?
Would you like to run paid workshops to our Spa Club members?
Would you like to take part on webinars or 'coaching spotlight' sessions to demonstrate your speciality to prospect and reach out to both private and corporate members within here?
Would you like all of this for FREE without any joining fee or commission taken?
If the answer is YES to any of these, please read on!
Watch this video to find out more about the Spa!
We would love to have you on board; please read the Guide, FAQ's and T&C's below – 2 minutes.
WHAT'S NEXT
Watch the sign up instruction video "Click Here And Watch Me".
Click the "Sign Up As A Coach Here".
Get your confirmation email and follow up with the final steps to set you up to be found in the Spa and supporting marketing of your profile.
After watching the video – you can sign up now!

Look forward to seeing you on the other side.
After enrolling your confirmation email will bring you back here to finish off.
Join the coaching community in the Spa by signing up:
Email over your content to admin@wellnesswithinclub.com – any files over 10Mg will not come through. Use a service like https://www.wesendit.com/ – you can send up to 2G for free.

Watch out for your email to say your content has been uploaded, once uploaded your profile will go live – until then it remains in a Pending listing state.
We support our coaches by putting out a Spotlight poster on a weekly basis showcasing their skill and personality. This is an example of course, Albert isn't a coach.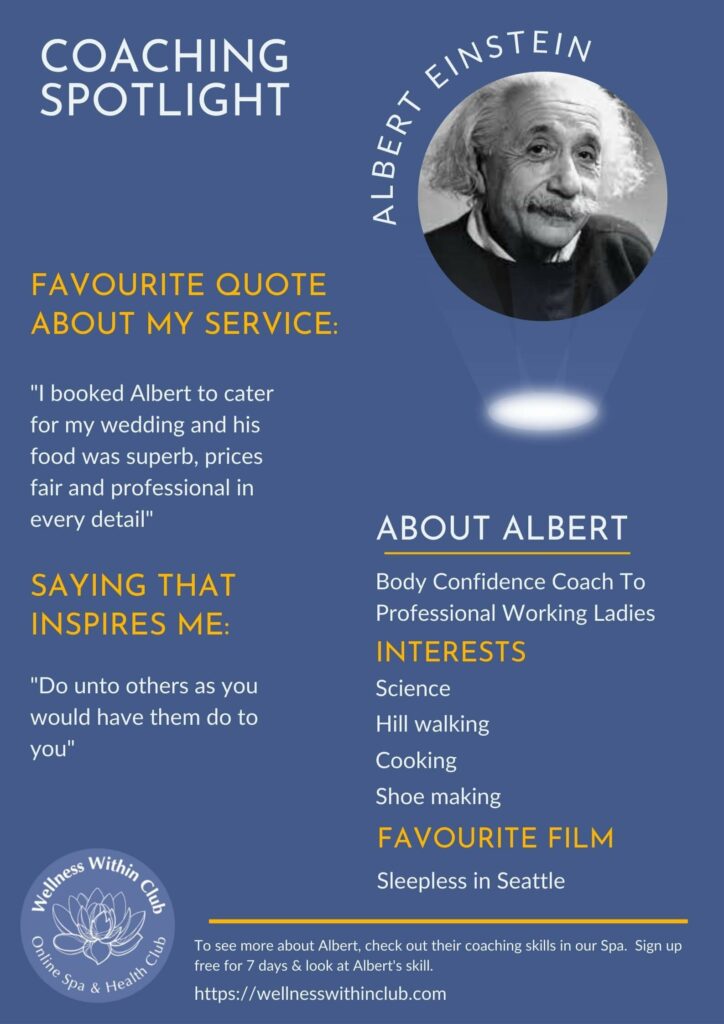 Go to your members area HERE and use this as a template for how much information to supply. It is on your profile page
Welcome on board, I look forward to creating a thriving coaching community for our members and those seeking personal and/or business growth. Let's see what magic we can create.